2023-01-10
fecha de cierre 2 de junio de 2023 (https://bit.ly/Postulacion-RC)
Convocatoria https://bit.ly/Call-RC17
Pautas http://bit.ly/pautas_RC_21
Guidelines http://bit.ly/GuidelinesRC_21
Diretrizes http://bit.ly/DiretrizesRC_21
razoncritica@utadeo.edu.co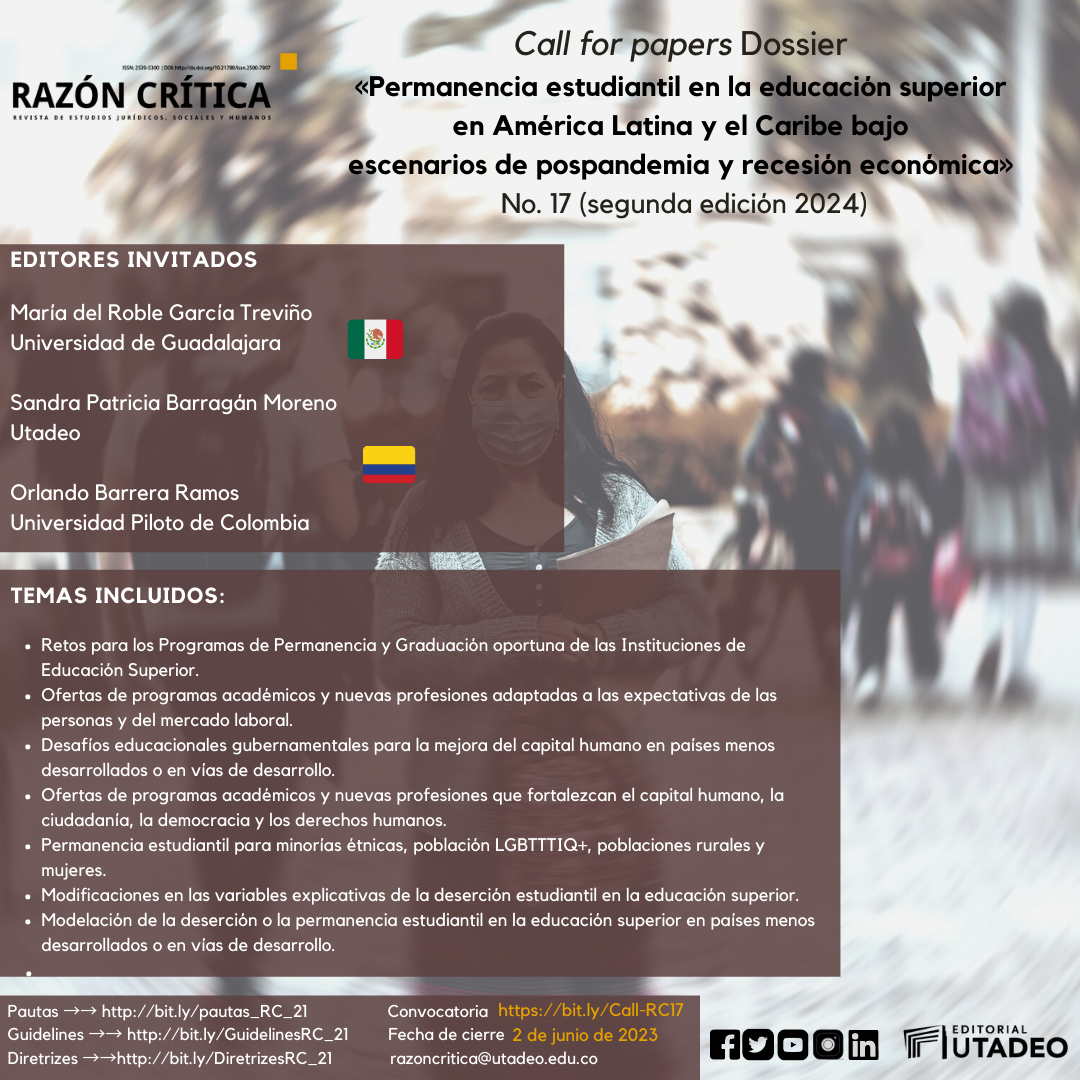 2022-11-21
For its 16th Issue, commemorating the 10 years of the Belt and Road initiative and the 10 years of the foundation of the Confucius Institute – Utadeo, the Editorial Committee of Razón Crítica invites scholars to submit papers dealing with aspects of international cooperation between China and Latin America, particularly focusing on the Belt and Road Initiative.
Topics including, but not limited to:
Political, economic, financial, infrastructural, humanitarian cooperation between China and Latin America
China's poverty reduction policies: successes, setbacks, and lessons to be learnt by the rest of the world, including China's international cooperation strategies aimed at poverty reduction abroad
China's advancement and cooperation in the Green Energy sector
20th National Congress of the Chinese Communist Party
Latin America's changing political environment in relation to the China-United States competition
Migration studies
China's Rural Revitalization studies
Interchange of civilizations
Guest editors:
Chenxi Luo, PhD (Southwest University, China)
Guo Cunhai, PhD (Institute of Latin American Studies, Chinese Academy of Social Sciences)
Lorenzo Maggiorelli, PhD (UTadeo, Colombia)
Deadline April 1, 2023 
Call →→https://bit.ly/Call-RC16
Pautas →→ http://bit.ly/pautas_RC_21
Guidelines →→ http://bit.ly/GuidelinesRC_21
Diretrizes →→http://bit.ly/DiretrizesRC_21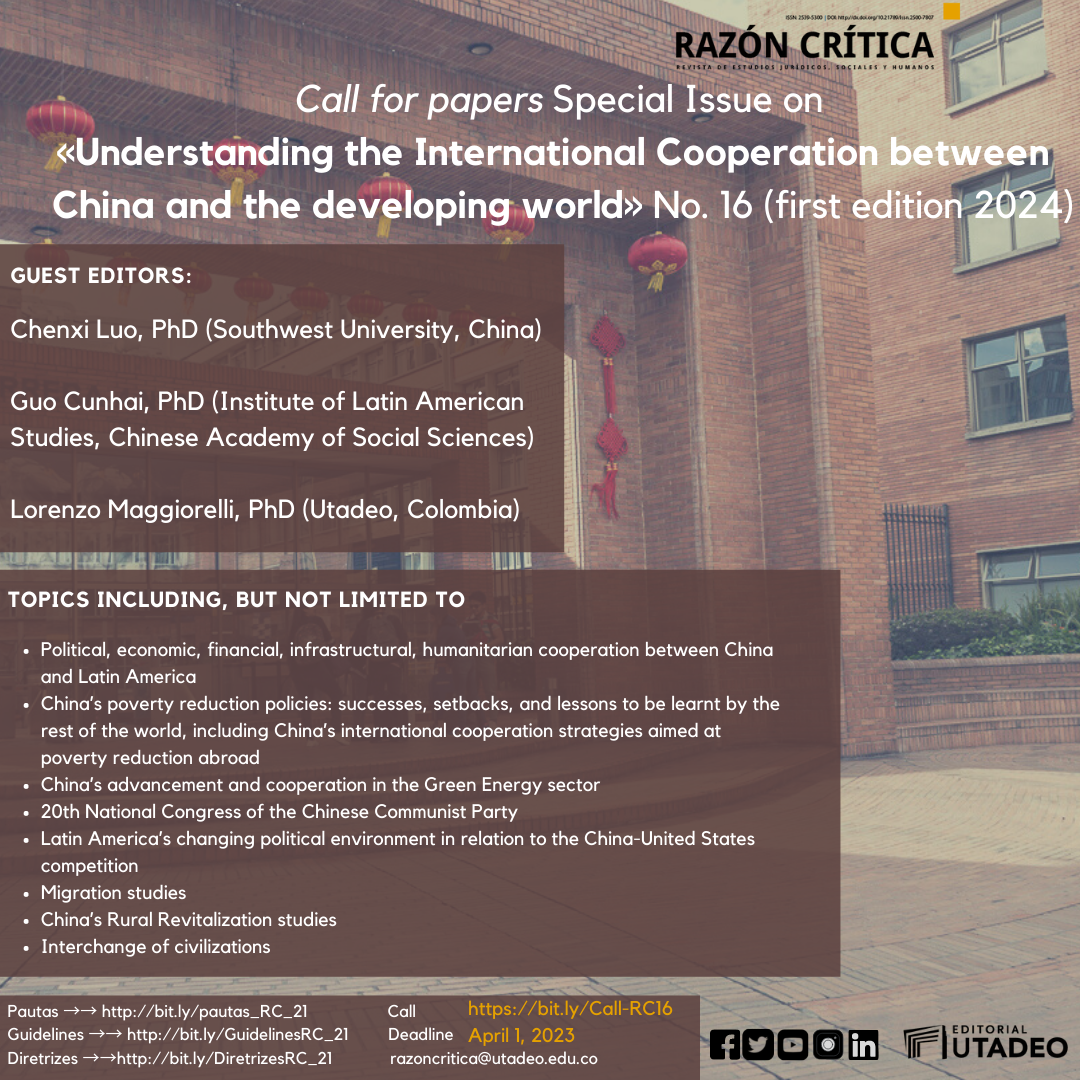 Núm. 14 (2023): Dossier. Pueblos Originarios: perspectivas desde el arte, la literatura y las ciencias sociales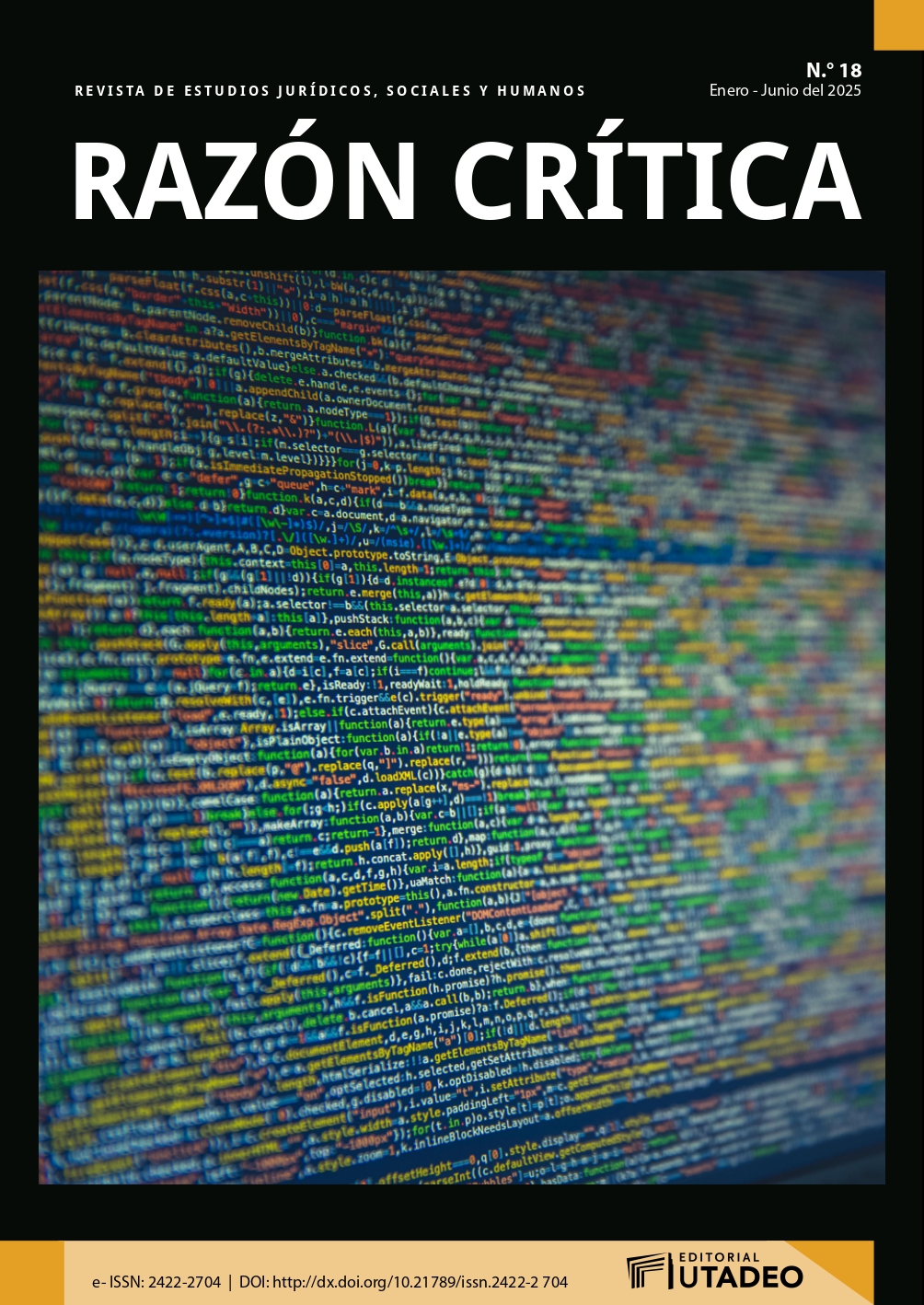 Dossier. Pueblos Originarios: perspectivas desde el arte, la literatura y las ciencias sociales
Territorial Conflicts and Indigenous Demands in the face of the Advance of the Hydrocarbon Frontier in the Province of Neuquén, Argentina
Acacio Juan Antonio
Visitas Artículo 129 | Visitas PDF 98
Ethnological Research in Llanos Orientales: A Panoramic View
Hernández Bello Álvaro
Visitas Artículo 205 | Visitas PDF 112
Displacement, Reparation and Resistance of Indigenous Purépecha Women against the Avocado Agroindustry
Farías Ochoa Alberto
Visitas Artículo 103 | Visitas PDF 67
Payalchi´o´ob: Prayers in Yucatec Maya to Cure Diseases
Ramos Valencia Jimmy Emmanuel
Visitas Artículo 159 | Visitas PDF 203
Indigenous Population and Their Defenders when Facing Criminal Justice for Theft. Governorates of Santafé, Tunja and Neiva, in the New Kingdom of Granada (1750-1810)
Ceballos Bedoya Nicolás
Visitas Artículo 137 | Visitas PDF 53
Children and Women of the Government House in AtyKwakúmuke (Pueblo Bello, Colombia): Parenting Guidelines and Access to Sexual Justice in the Sierra Nevada
Restrepo Galvis Laura Sofía , Santamaria Ángela , Izquierdo Digneris , Moreno Reza Gabriel Elias
Visitas Artículo 195 | Visitas PDF 90
Appropriating the Law: Indigenous Mobilization and Agrarian Reform in the Guambía Reservation
Ospina Díaz Diana Carolina
Visitas Artículo 55 | Visitas PDF 42
Living as a Stranger Inside: When the Body Fights Back. The Case of Indigenous Authorship Literature by Estercilia Simanca Pushain
Barragán Luis, Ardila Luna Diana Carolina
Visitas Artículo 95 | Visitas PDF 41
Huarpe Youth from Mendoza (Argentina): Public Policies or Necropolitics in the Territories?
Rosales Carla Daniela, Quiroga Spatola Marian Luciana, Garcia Ortiz Mariana, Ochoa Natalia
Visitas Artículo 92 | Visitas PDF 44
The Chilean-Mapuche Conflict in a Transnational Key: The Case of the Chilean Comando Jungla and its Links with the Colombian Securitization Doctrine
Riobó Rodríguez Juan Camilo
Visitas Artículo 62 | Visitas PDF 40
The Instrumentalization of Anthropological Knowledge in the 1930s within the Framework of the Colonization of the Llanos Orientales
Reyes Gavilan Aura Lisette
Visitas Artículo 93 | Visitas PDF 55
Humor in the Mayo Joke "Baji Yoreme Emo Komparekame Emo Yori Noki Majtia Bareyme. The Three Compadres Who Wanted to Speak like the Yoris"
Rodriguez Rosario Melina
Visitas Artículo 21 | Visitas PDF 20
Conflicts between the collective territorial property of indigenous peoples and individual private property. Reflections in light of the case of the indigenous reservation of colonial origin Cañamomo Lomaprieta, Regarding the T-530 Sentence of 2016
Vanegas Toro Francisco Hernando
Visitas Artículo 52 | Visitas PDF 61
---
Ver todos los números