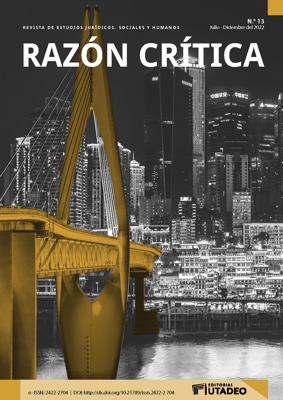 Cómo citar
Jian , L. ., & Jiejie, G. . (2022). China's Social Assistance and Poverty Reduction Policy: Development, Main Measures, and Inspiration to Global Poverty Alleviation. Razón Crítica, (13). https://doi.org/10.21789/25007807.1856
Esta obra está bajo una licencia internacional Creative Commons Atribución-NoComercial-CompartirIgual 4.0.
Resumen
China's Social Assistance and Poverty Reduction Policy is an essential requirement for alleviating poverty and guaranteeing the basic needs of people who live at the bottom of society and are unable to obtain a source of livelihood through their own means. This paper summarizes the development of China's policy and its social assistance main measures aimed at fighting poverty and analyzes its possible contributions to alleviating global poverty. The main findings of the study are that: social assistance is a key factor within the poverty reduction policy and such policy is the foundation of the poverty reduction policy; an exemplary institutional synergy has resulted from the multi-tiered poverty reduction policy system; the comprehensive poverty reduction policy and the poverty alleviation and development policy have been connected effectively; the grass-roots services and supervision mechanisms have also been continuously improved. Additionally, sustained economic development has provided stable financial support for implementing its policy and its government has committed to improve the system, adding importance to building a security net for people's livelihood, and establishing a comprehensive policy system for poverty reduction. Forming a responsibility mechanism led by the government and supplemented by social forces[1], China has constructed a policy adjustment mechanism compatible with social development, to innovate grassroots social governance, aimed at continuously improving the performance of poverty reduction. A look at China's poverty reduction historical process can inspire the world's poverty governance.
[1] "Social forces" refers to those who are involved in advancing social development, including natural persons and juridical persons (social organizations, public institutions affiliated with Party and government offices, non-governmental organizations, Party-mass communities, non-profit organization, enterprises, etc.).
Palabras clave:
Citas
China Economic Annual Report 2020. http://www.gov.cn/zhuanti/2020zgjjnb/index.htm.

Duoji C. (2001). Research and Practice of China's Minimum Living Security System. Beijing: People's Publishing House, 99.

Gao H. (2019). Development and Outlook of China's Social Assistance System in the 70 years of the People's Republic of China. Journal of the University of Jinan (Social Sciences Edition), 29(2), 136-142 + 162.

Gao Q, Tongshan, L., & Guiyin, S. (2019). China's poverty reduction strategy and policy transformation after 2020. Academic Journal of Zhongzhou, 5, 31-36.

Han G., & Yuan, X. (2021). China's Rural Poverty Alleviation in the Post poverty Alleviation Era: Situation, Orientation and Path. Lanzhou Journal, 2, 13.

Han K. (2018). Is social assistance a basic guarantee? A descriptive study on subsistence allowance criteria. Journal of Zhengzhou University (Philosophy and Social Sciences), 4, 18-23.

He X. (2018). Poverty Alleviation Policy and Social Security Policy in China's Rural Anti-Poverty Strategy. Journal of Wuhan University (Philosophy and Social Sciences Edition), 03, 147-153.

Huang S. (2018). We will give full play to the role of civil affairs in the battle against poverty. Chinese Civil Affairs, 3, 6-7.

Hong D. (2019). Strengthening the guarantee function of social policy. Social Policy Research, 1, 5-9.

Huang Q. (2018). Research on the theoretical and practical path of social security to get rid of poverty. Financial Supervision, 16, 108-113.

Jiang Z. (2018, 17 January). Give full play to the role of social policy in people's living. From China Social Science Network, http://www.cssn.cn/bk/bkpd_qkyw/bkpd_bjtj/201801/t20180117_3818539.shtml.

Lan J. (2018). Deconstruction and Governance of Social Assistance Dependence from Anti-poverty Perspective. Beijing: Science Press.

Lin M. (2018). China's social assistance system development for 40 years: review and forward- looking. Journal of Beijing Institute of Administration, 5, 1-6.

Liu B., & Keqing, H. (2016). The division and integration of China's anti-poverty policy: A study on social assistance and poverty alleviation and development. Guangdong Social Sciences, 6, 7-15.

Wang Y., & Junxia, W. (2015). We will better play the role of the social assistance system in combating poverty. Journal of the National Academy of Administration, 6, 69-73.

Yao J. (2018). The Relationship, Issues, and Policy Suggestions between Social Assistance and Rural Poverty Alleviation. Journal of North China Electric Power University (Social Sciences Edition), 3, 52-57.

Zhang H., & Chao, Z. (2020). New era of social assistance concept goal, system in the operation mechanism. Journal of Northwestern University (Philosophy and Social Sciences Edition), 4, 99-106.

Zheng G. (2002). Changes and Evaluation of China's Social Security System. Beijing: Renmin University of China Press, 219.

ZuoTing H. (2017). System connection and integration: a comparative study on the two systems of rural minimum living security and poverty alleviation. Public Administration Review, 3, 7-25 + 213.
Descargas
Los datos de descargas todavía no están disponibles.
Citado por