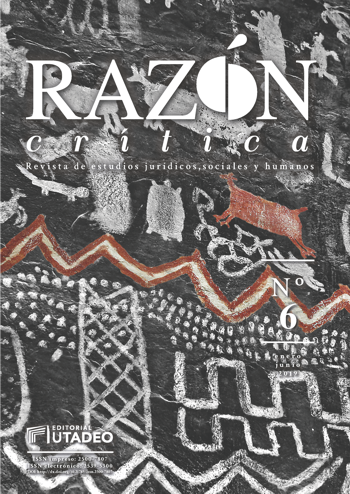 Cómo citar
Fattori, L. (2019). Narrativa y estética de la database. Razón Crítica, (6), 33-59. https://doi.org/10.21789/25007807.1446
Resumen
Las tecnologías fotoquímicas de representación coincidieron con el desarrollo del telégrafo, verdadera externalización del sistema nervioso central. En ese mismo periodo, se inició la configuración de los impulsos eléctricos para el intercambio de información, lo que propició el desarrollo de un nuevo sistema de comunicación, un sistema acéntrico que liberaría la humanidad de un régimen comunicativo jerárquico. La nueva fórmula informativa, fundada sobre la hipotética libre y directa interacción entre individuos, se vio potenciada cuando la estructura de red, ejemplificada con los cables interoceánicos, se sirvió de la imagen cinematográfica y su aura de objetividad. Es en ese contexto, y bajo esa misma remediación que conjugaba el telégrafo con la imagen cinematográfica, que vemos el surgimiento de narrativas que se expresan a través de un cierta estética de database. En este ensayo analizaremos, entre otras, la obra de Dziga Vértov y su interés en desarrollar un sistema en el que el sentido es producido de manera abierta y libre en la interconexión global permitida por una red eléctrica. Veremos la forma en que la narración en la era eléctrica inició progresivamente a basarse exclusivamente en la imagen en movimiento. También analizaremos la forma en que Georges Méliès materializó un sistema de relaciones sociales de entretenimiento e información, así como la forma en que este gran ilusionista articuló la tecnología cinematográfica con la telegráfica, para así poner en movimiento una red de información social basada en las representaciones de la realidad, en pocas palabras, una sociedad del espectáculo.
Citas
Abruzzese, A., & Borrelli, D. (2000). L'industria culturale: Tracce e immagini di un privilegio. Roma: Carocci.

Baudrillard, J. (1991). La guerra del Golfo no ha tenido lugar. Barcelona: Anagrama.

Baudrillard, J. (1993). Symbolic Exchange and Death. Londres: SAGE.

Baudrillard, J. (1996). El crimen perfecto. Barcelona: Anagrama.

Bolter, J. D., & Grusin, R. (1999). Remediation. Understanding New Media. Massachusetts: The MIT Press.

Bergson, H. (1985). La evolución creadora. Madrid: Espasa‐Calpe.

Caronia, A. (1996). Il Corpo Virtuale, Dal corpo robotizzato al corpo disseminato nelle reti. Padova: Franco Muzzio Editore.

Casetti, F. (2015). The Lumière Galaxy: Seven Key Words for the Cinema to Come. Nueva York: Columbia University Press

Cubitt, S. (1991). Timeshift. On Video Culture (A Comedia Book). Oxford: Routledge.

Cubitt, S. (2001). Simulation and Social Theory. Londres: SAGE.

Debord, G. (1970). The Society of the Spectacle. (Ed. Fredy Perlman y Jon Supak). Detroit: Black and Red.

Deleuze, G. (1987). La imagen-tiempo: Estudios sobre cine 2. Ciudad de México: Paidós.

De Kerckhove, D. (1991). Brainframes: Technology, Mind and Business. Utrecht: Bosch & Keuning.

De Kerckhove, D. (2009). The Skin Of Culture: Investigating the New Electronic Reality. Londres: Kogan Page.

Duarte, G. A. (2009). La scomparsa dell'orologio universale. Peter Watkins e i mass media audiovisivi. Milán-Udine: Mimesis Edizioni.

Duarte, G. A. (2013). Cartografía de espacios infinitos: de la representación a la presentación de la natura. Filosofía UIS, 12, 15-33).

Duarte, G. A. (2014). Fractal Narrative: About the Relationship Between Geometries and Technology and Its Impact on Narrative Spaces. Wetzlar: Transcript Verlag.

Duarte, G. A. (2016). Conversaciones con Peter Watkins, Conversations with Peter Watkins. Bogot á: Universidad de Bogotá Jorge Tadeo Lozano.

Edison, T. A. (1888). Patente E.E. U.U. 110: Motion Pictures. Washington, DC.: Oficina de Patentes y Marcas de EE. UU.

Eco, U. (1976). Opera Aperta. Milán, Italia: Bompiani.

Eisenstein, S. (1977). Film Form, Essays in Film Theory. (Ed. Jay Leda). Londres, Inglaterra Harcourt Brace.

Engell, L. (1999). Regarder la télévision avec Gilles Deleuze. Weimar, Alemania: Verlag der Bauhaus-Universität Weimar/Presses de la Sorbonne Nouvelle.

Epstein, J. (2014). The Intelligence of a machine. (Trad. Christophe Wall-Romana). Minnesota: University of Minnesota Press.

Flusser, V., & Bec, L. (2012) Vampyroteuthis infernalis. A Treatise, with a Report by the Institut Scientifique de Recherche Paranaturaliste. Minnesota: University of Minnesota Press.

Flusser, V., Novaes, R. M., & Zielinski, S. (2015). On Doubt. Minnesota: University of Minnesota Press.

Lyotard, J-F. (1984). The Postmodern Condition: A Report on Knowledge. Manchester: Manchester University Press.

Lévy, P. (1997). Collective Intelligence: Mankind's Emerging World in Cyberspace. Massachusetts: Perseus Books.

Manovich, L. (2001). The Language of New Media. Massachusetts: The MIT Press.

McLuhan, M. (1996). Comprender los medios de comunicación: Las extensiones del ser humano. Madrid: Paidós.

Mitry, J. (1997). Aesthetics and Psychology of the Cinema. Indiana: Indiana University Press.

Novak, M. (1993). Cyberspace, Primi passi nella realtà virtuale. (Ed. M. Benedikt). Padova: Franco Muzzio Editore.

Panofsky, E. (1997). Three Essays on Style. Massachusetts: The MIT Press.

Rath, C. D. (1989). Remote Control: Television, Audiences, and Cultural Power. (Ed. Ellen Seiter). Londres: Routledge.

Ramonet, I. (1998). La tiranía de la Comunicación. Madrid: Debate.

Sadoul, G. (1972). Historia del cine mundial. Desde los orígenes. Madrid: Siglo XXI.

Vértov, D. (1984). Kino-Eye. The Writings of Dziga Vértov. (Ed. Michelson, A.). California: University of California Press.

Virilio, P. (2000). From Modernism to Hypermodernism and beyond. Londres, Inglaterra: SAGE.
Descargas
La descarga de datos todavía no está disponible.