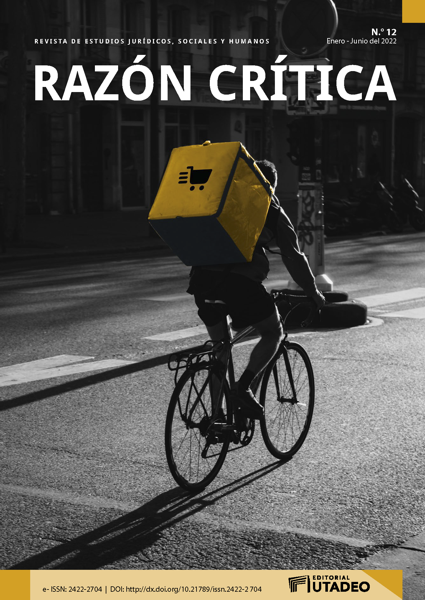 Cómo citar
Fagioli, A. (2022). El general intellect en bicicleta. Un análisis del trabajo de repartidores de plataformas de delivery de Buenos Aires, Argentina. Razón Crítica, (12). https://doi.org/10.21789/25007807.1750
Esta obra está bajo una licencia internacional Creative Commons Atribución-NoComercial-CompartirIgual 4.0.
Resumen
El artículo analiza algunos aspectos del trabajo de les repartidores de plataformas de delivery, desde un marco teórico basado en algunas formulaciones de autores que se inscriben en el así llamado marxismo postoperaísta. En particular, se retoma la manera en que ciertes autores filtran a la luz de la historia del capitalismo y extienden en su alcance el concepto marxiano de general intellect. A partir de un trabajo de campo realizado con les repartidores de Buenos Aires, el texto se enfoca principalmente en la autonomía que tienen estes en el manejo de sus tareas cotidianas, que, más allá de los cuerpos, requieren la puesta al trabajo de  los requisitos específicos del Homo sapiens. La hipótesis que se plantea es que esto implica, de parte de las plataformas, un manejo estratégico de las relaciones capital-trabajo y que las plataformas se pueden volver un terreno de conflicto.
Palabras clave:
Citas
Barker, A. (2020, 7 de octubre). Cycling in the city [Mensaje en un blog]. https://notesfrombelow.org/article/cycling-city.

Casilli, A. (2019). En attendant les robots. Enquête sur le travail du clic. Seuil.

Del Bono, A. (2019). Trabajadores de plataformas digitales: Condiciones laborales en plataformas de reparto a domicilio en Argentina. Cuestiones de Sociología, 20. https://doi.org/10.24215/23468904e083.

De Stavola, F. (2020). Potere, controllo e soggettività nelle piattaforme digitali di food delivery: un'analisi foucaultiana dell'app latinoamericana Rappi. Sociologia del Lavoro, 158, 178-198. https://doi.org/10.3280/SL2020-158009.

Elbert, R. & Negri, S. (2021). Delivery Plataforms Workers during COVID-19 Pandemic in the City of Buenos Aires (Argentina): Deepened Precarity and Workers' Response in a Context of Epidemiological Crisis. Journal of Labor and Society, 1-25. https://doi.org/10.1163/24714607-bja10014.

Fagioli, A. (2015) Operaismo y postoperaismo: una mirada desde la perspectiva de la filosofía de la técnica. Eikasía. Revista de Filosofía, 63, 111-124.

Fagioli, A. (2021a) Lucha de clases y multitud. La subjetividad política desde la perspectiva del marxismo postoperaista. Vicente López: Red Editorial.

Fagioli, A. (2021b) To exploit and dispossess: The twofold logic of platform capitalism. Work Organisation, Labour & Globalisation, 15(1), 126-137. https://doi.org/10.13169/workorgalaboglob.15.1.0126

Haidar, J. (2020). La configuración del proceso de trabajo en las plataformas de reparto en la ciudad de Buenos Aires. Un abordaje multidimensional y multi-método. En Informes de Coyuntura n.° 11, Octubre 2020. Instituto de Investigaciones Gino Germani.

Hardt, M. & Negri, A. (2002). Imperio. Paidós.

Hardt, M. & Negri, A. (2011). Commonwealth. El proyecto de una revolución del común. Akal.

Heeks, R. (2017). Decent Work and the Digital Gig Economy: A Developing Country Perspective on Employment Impacts and Standards in Online Outsourcing, Crowdwork, Etc. Development Informatic Working Papers, 71. https://doi.org/10.2139/ssrn.3431033.

Huws, U. (6 de enero de 2016). Logged In. Jacobin Mag. https://www.jacobinmag.com/2016/01/huws-sharing-economy-crowdsource-precarity-uber-workers/

Ivanova, M., Bronowicka, J., Kocher, E., & Degner, A. (2018). The App as a Boss? Control and Autonomy in Application-Based Management. Work in Progress interdisziplinärer Arbeitsforschung, 2. https://doi.org/10.11584/arbeit-grenze-fluss.2

Marazzi, Ch. (2007). L'ammortamento del corpo-macchina. Posse, 13, 22-45.

Marx, K. (1989). Elementos fundamentales para la crítica de la economía política: borrador (Vol. 2). Siglo XXI.

Marx, K. (2010). El capital. Crítica de la economía política, (Vol. 1). Siglo XXI.

Negri, A. (2001). Marx más allá de Marx. Cuaderno de trabajo sobre los Grundrisse. Akal.

Nicoli, M. & Paltrinieri, L. (2019). (2019) Platform Cooperativism: Some Notes on the Becoming 'Common' of the Firm. South Atlantic Quarterly, 118(4), 801-819. https://doi.org/10.1215/00382876-7825624

Niebler, V., Altenried, M. & Macannuco, J. (2020). Platform Labour: Contingent Histories and New Technologies. Soft Power, 13(7.1), 255-265. https://doi.org/10.14718/SoftPower.2020.7.1.13.

Panzieri, R. (1961). Sull'uso capitalistico delle macchine nel neocapitalismo. Quaderni Rossi, 1, 53-72.

Pasquinelli, M. (2014a). To Anticipate and Accelerate: Italian Operaismo and Reading Marx's Notion of the Organic Composition of Capital. Rethinking Marxism, 26(2), 178-192. https://doi.org/10.1080/08935696.2014.888833.

Pasquinelli, M. (2014b). Introduzione. En Pasquinelli, M. (Ed.), Gli algoritmi del capitale (pp. 7-14). Ombrecorte.

Rosenblat, A. & Stark, L. (2016). Algorithmic Labor and Information Asymmetries: A Case Study of Uber's Drivers. International Journal of Communication, 10, 3758-3784. https://doi.org/10.2139/ssrn.2686227.

Rossi, U. (2019). The Common-Seekers: Capturing and Reclaiming Value in the Platform Metropolis. Environment and Planning C: Politics and Space, 37(8), 1418-1433. https://doi.org/10.1177/2399654419830975.

Srnicek, N. (2018). Capitalismo de plataformas. Caja Negra.

Tammisto, T. (11 de octubre de 2018). When Mr. Robot is your Boss: Working under Algorithms [Mensaje en un blog]. https://foodoracampaign.noblogs.org/post/2018/10/11/when-mr-robot-is-your-boss-working-under-algorithms/.

Terranova, T. (2018). Marx en tiempo de algoritmos. Nueva Sociedad, 277, 88-101.

Van Doorn, N. (2017). Platform Labor: on the Gendered and Racialized Exploitation of Low-Income Service Work in the 'On-Demand'economy. Information, Communication & Society, 20(6), 898-914. https://doi.org/10.1080/1369118X.2017.1294194.

Vecchi, B. (2017). Il capitalismo delle piattaforme. Manifestolibri.

Vercellone, C. (2007). From the Formal Subsumption to General Intellect. Elements for a Marxist Reading of the Thesis of Cognitive Capitalism. Historical Materialism, 15, 13-36. https://doi.org/10.1163/156920607X171681.

Vercellone, C. (2020). Les plateformes de la gratuité marchande et la controverse autour du Free Digital Labor: une nouvelle forme d'exploitation?. Information et Communication, 2. https://doi.org/10.21494/ISTE.OP.2020.0502.

Virno, P. (2003a). Virtuosismo y revolución. La acción política en la era del desencanto. Traficantes de sueños.

Virno, P. (2003b). Gramática de la multutid. Para un análisis de las formas de vida contemporáneas. Traficantes de sueños.

Virno, P. (2005). Cuando el verbo se hace carne. Lenguaje y naturaleza humana. Traficantes de sueños.

Wright, S. (2002). Storming Heaven. Class Composition and Struggle in Italian Autonomist Marxism. Pluto Press.
Descargas
Los datos de descargas todavía no están disponibles.
Citado por