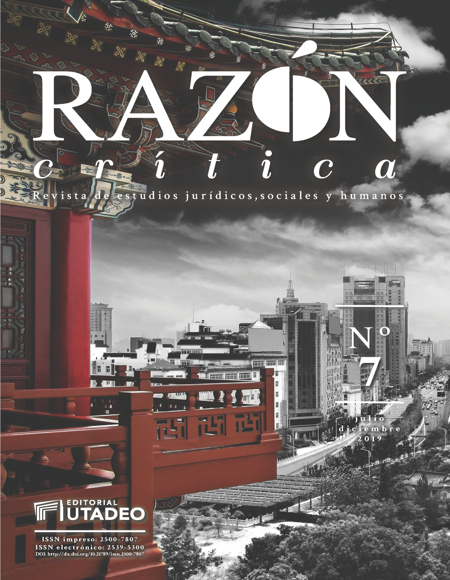 Cómo citar
Vejarano Rivera, J. C. (2019). La iniciativa del cinturón y la ruta de la seda (BRI): globalización incluyente como motor para la transición pacífica de China al liderazgo mundial . Razón Crítica, (7), 111-138. https://doi.org/10.21789/25007807.1509
Resumen
La importancia de la cultura china como civilización y como estado se remonta a 5.000 años de historia documentada, en la cual sucesivas generaciones mantienen el conocimiento, la técnica y el comercio, como tradición y legado de su cultura. A través de los siglos, China se ha transformado como estado y también ha modificado las maneras de relacionarse con el resto del mundo, es decir, desde la ruta de la seda, hasta los nuevos modelos comerciales. En la actualidad, el mundo globalizado ha impuesto sobre la tradición china un nuevo reto, cómo insertarse en el contexto mundial luego de presentar un crecimiento y desarrollo económico a tasas elevada, hasta el pasado año, el 2018, cuando la tasa de crecimiento bajó, pero la presencia de China en el mundo aumentó sustancialmente. Se presenta a China como una civilización, que a partir del discurso ha construido la estrategia con que buscará el liderazgo mundial, basado en el apoyo al mundo en desarrollo. Lo anterior, a la luz de las relaciones internacionales y los planteamientos de la teoría de los complejos regionales de seguridad, este análisis cobra pertinencia y relevancia al observarse los cambios que esto podría generar en los límites de los complejos del mundo posterior a la guerra fría.
Licencia
Esta obra está bajo licencia internacional
Creative Commons Reconocimiento-NoComercial-CompartirIgual 4.0
.
Citas
5 things to know about China's Central Economic Work Conference as policymakers plan U. S. trade war fightback. (2018, 18 de diciembre). South China Morning Post. Recuperado de https://www.scmp.com/economy/china-economy/article/2178498/5-things-know-about-chinas-central-economic-work-conference

Buzan, B. a. (2003). Regions and Powers: The Structure of International Security. London: Cambridge University Press. doi: https://doi.org/10.1017/CBO9780511491252

Cai, P. (2017). Understanding China's Belt and Road Initiative. Analysis - Lowy Institute for International Policy, 1-26. Recuperado el 20 de marzo de 2019, de https://think-asia.org/bitstream/handle/11540/6810/Understanding_Chinas_Belt_and_Road_Initiative_WEB_1.pdf?sequence=1

Calduch. (1991). - Relaciones Internacionales. Recuperado el 10 de marzo de 2019, de https://www.ucm.es/data/cont/media/www/pag-55159/lib1cap7.pdf

Champion, L. &. (30 de Agosto de 2018). Does China Have What It Takes to Be a Superpower? Bloomberg. Obtenido de https://www.bloomberg.com/graphics/2018-china-superpower/

China, Comisión de Desarrollo Nacional y Reforma de la República Popular. (28 de 03 de 2015). Vision and Actions on Jointly Building Silk Road Economic Belt and 21st-

Century Maritime Silk Road. Recuperado el 17 de 03 de 2019, de National Development and Reform Comission (NDRC) People's Republic of China: http://en.ndrc.gov.cn/newsrelease/201503/t20150330_669367.html

Does China Have What It Takes to Be a Superpower? (2018, 30 de agosto). Bloomberg. Recuperado de https://www.bloomberg.com/graphics/2018-china-superpower/

Higueras, G. (2015). La Ruta de la Seda del siglo XXI. Estudios de Política Exterior No 167.

Kugler, J. (2011). Power Transitions. International Interactions. Special Issue, 38.5.

Li, M. (2012). International Status: China's Pursuit of a Comprehensive Superpower Status: The Ashgate Research Companion to Chinese Foreign Policy Routledge. London: Routledge.

LIU Weidong, M. D. (2018). A discursive construction of the Belt and Road Initiative: From neo-liberal to inclusive globalization. Journal of Geographical Sciences, 28, 1199-1214. doi: https://doi.org/10.1007/s11442-018-1520-y

Llastoguera. (2004). La seda china y la ruta de la seda. Boletín de la Asociación española de orientalistas, 243-265.

Mahbubani, K. Understanding the Rise of Asia. The New Asian Hemisphere: The Irresistible Shift of Global Power to the East. Public Affairs, New York, 2008, pp. 336

Naciones Unidas. (2017). World Population Prospects. The 2017 Revision. Recuperado de https://population.un.org/wpp/Graphs/Probabilistic/POP/TOT/

Organski, A. F. (1968). World Politics. 2d ed. . New York: Knopf.

Ravallion, M. (2010) Poverty Lines across the World. Policy Research Working Paper 5284. The World Bank. doi: https://doi.org/10.1596/1813-9450-5284

Wang, Q. (2010). Administrative Reform in China: Past, Present, and Future. Southeast Review of Asian Studies, 100-119. Recuperado el 20 de marzo de 2019, de https://www.academia.edu/16554991/Administrative_Reform_in_China_Past_Present_and_Future

Ward, A. (14 de noviembre de 2018). China's military power could match America's by 2050. VOX. Recuperado el 22 de marzo de 2019, de https://www.vox.com/world/2018/11/14/18091800/china-military-power-congress-commission-report-2050

Weidong Liu, M. D. (2016, 28 de septiembre). Inclusive globalization: unpacking China's Belt and Road Initiative. doi: https://doi.org/10.1080/23792949.2016.1232598

Xinhua. (2017, 14 de mayo). Full text of President Xi's speech at opening of Belt and Road forum. Obtenido de Xinhuanet: http://www.xinhuanet.com/english/2017-05/14/c_136282982.htm

Zoellick, R. (2007, octubre 10). Una globalización incluyente y sostenible. Banco Mundial. Recuperado de https://www.bancomundial.org/es/news/speech/2007/10/10/an-inclusive-sustainable-globalization
Descargas
La descarga de datos todavía no está disponible.