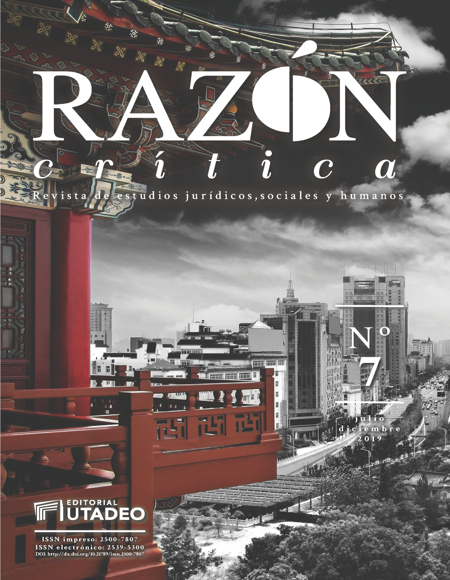 Cómo citar
Defelipe Villa, C. E. (2019). La gobernanza estatal china en la transformación de los regímenes económicos globales. Razón Crítica, (7), 53–80. https://doi.org/10.21789/25007807.1460
Esta obra está bajo una licencia internacional Creative Commons Atribución-NoComercial-CompartirIgual 4.0.
Resumen
Este artículo se propone describir los incentivos económicos e institucionales que delimitan el papel de China como proveedor de bienes públicos en la gobernanza económica global. Tras la formulación del XIII Plan Quinquenal en el 2016 China plantea convertirse en un importante contribuyente a la gobernanza global por medio del impulso al desarrollo de la economía mundial. Sin embargo, ha asumido una participación selectiva dentro de los diferentes regímenes del actual sistema económico internacional y su apropiación de las prácticas económicas liberales aún son limitadas. En esta contradicción entre metas y medios, China no tiene como alternativa proponer o modificar un sistema alternativo o modificar sustancialmente el sistema actual. En su lugar, la mejora promovida desde el Estado de sus capacidades y competencias productivas le permitirían incentivar una competencia por una mejor provisión global de bienes públicos específicamente a través del régimen de estándares técnicos.
Palabras clave:
Citas
Andornino, G. (2010). China and global governance: Status quo power or challenge to the global order? En S. Breslin (ed.), Handbook of China's International Relations (pp. 95-105). Londres: Routledge.

Asia Society. (15 de enero del 2019). Asia Society. Recuperado de https://www.youtube.com/watch?v=kgZIc1WjPRY&t=628s

Beeson, M. (2017). Why Has Leadership in the Asia-Pacific Proved so Elusive? Chinese Political Science Review, 2(4), 567-581. https://doi.org/10.1007/s41111-017-0074-y


Bertelsmann, S. (2018). BTI Country Report-China. Recuperado de https://www.bti-project.org/en/reports/country-reports/detail/itc/CHN/

Boughton, J., & Bradford, C. (Diciembre del 2007). Global Governance: New Players, New Rules. Finance and Development, 4(44). Recuperado de http://www.imf.org/external/pubs/ft/fandd/2007/12/boughton.htm

Bowden, B., & Seabroke, L. (2006). Civilizing markets through global standards. En B. Bowden, & L. Seabroke (eds.), Global Standards of Market Civilization (pp. 3-16). Nueva York: Routledge.

Breslin, S. (2011). The 'China model' and the global crisis: from Friedrich List to a Chinese mode of governance? International Affairs, 87(6), 1.323-1.343. https://doi.org/10.1111/j.1468-2346.2011.01039.x

Breznitz, D., & Murphree, M. (2013). The Rise of China in Technology Standards: New Norms in Old Institutions. U.S.: China Economic and Security Review Commission.

Bull, H. (1977). The Anarchical Society: A Study of Order in World Politics. Nueva York: Columbia Univesity Press.
https://doi.org/10.1007/978-1-349-24028-9


Cerny, P. (2010). Rethinking World Politics: A Theory of Transnational Neopluralism. Oxford: Oxford University Press. https://doi.org/10.1093/acprof:oso/9780199733699.001.0001

Chan, L.H., Pak, L., & Gerard, C. (2008). Rethinking global governance: A China model in the making? Contemporary Politics, 14(1), 3-19. https://doi.org/10.1080/13569770801913355

China Becomes One of the Top 5 U.S. Patent Recipients for the First Time. (9 de enero del 2018). Bloomberg. Recuperado de https://www.bloomberg.com/news/articles/2018-05-11/robinhood-founders-turn-billionaires-in-a-silicon-valley-minute

China declared world's largest producer of scientific articles. (18 de enero del 2018) Recuperado de https://www.nature.com/articles/d41586-018-00927-4

China Spends $279 bln on R&D in 2017: Science Minister. (26 de febrero del 2018). Reuters. Recuperado de https://www.reuters.com/article/us-china-economy-r-d/china-spends-279-bln-on-rd-in-2017-science-minister-idUSKCN1GB018

Domínguez, R. (2018). China y la construcción de un régimen internacional de Cooperación Sur-sur. Carta Internacional, 13(1), 38-72. https://doi.org/10.21530/ci.v13n1.2018.737

Dollar, D. (2017). China's Investment in Latin America. Washington: Brookings.

Gérard, R. (2008). Understanding institutional change: fast-moving and slow-moving institutions. En J. Kornai, L. Matyás, & G. Roland (eds.), Institutional Change and Economic Behaviour (pp. 134-159). Nueva York: Palgrave Macmillan. https://doi.org/10.1057/9780230583429_7

Gerwirtz, J. (Diciembre del 2016). Is China the New Global Champion of Openness? Time. Recuperado de http://time.com/4602533/china-openness/

Golden, S. (2012). La percepción china del riesgo. En S. Golden (ed.), China en perspectiva: Análisis e interpretaciones (pp. 115-146). Barcelona: Bellaterra.

Hongyi, L. (2016). China's Governance Model: Flexibility and Durability of Pragmatic Authoritarianism. Routledge.

Hongying , W., & Xue, H. Y. (2017). China's "Going-Out" Strategy and Corporate Social Responsibility: Preliminary Evidence of a "Boomerang Effect". Journal of Contemporary China, 26(108), 820-833. https://doi.org/10.1080/10670564.2017.1337301

Hood, C. (1995). The New Public Management in the 1980s: Variations on a Theme. Accounting,Organization and Society, (20), 93-109. https://doi.org/10.1016/0361-3682(93)E0001-W

Houtari, M. (2017). Global Governance: A different Aproach. EU Institute for Security Studies.

Ikenberry, J., & Lim, D. (Abril de 2017). China's emerging institutional statecraft: The Asian Infrastructure Investment Bank and the Prospects for Counter-Hegemony. Washington: Brookings.

Instituto Alemán de la Estandarización. (2017). China's Standardization Reform. Recuperado de https://www.din.de/blob/257494/ee0b06981acdd9e0e9ac342ff5f40b1a/china-s-standardization-reform-data.pdf

Instituto Elcano. (2017). Índice Elcano de Presencia Global. Madrid. Recuperado de http://www.globalpresence.realinstitutoelcano.org/es/inicio

Jing , G., & Humphrey, J. (2007). Global governance and developing countries: The implication of the rise of China. World Development, 36(2), 274-292. https://doi.org/10.1016/j.worlddev.2007.06.009

Joseph, A. (Ed.). (2014). Politics in China: an introduction. Oxford: Oxford University Press.

Kewalramani, M. (3 de abril del 2018). China's Flawed Model for Peace. The Diplomat. Recuperado de https://thediplomat.com/2018/04/chinas-flawed-model-for-peace/

Long, C., & Jin , Y. (2016). What explains Chinese private entrepreneurs' charitable behaviors?-A story of dynamic reciprocal relationship between firms and the government. China Economic Review, 40, 1-16. https://doi.org/10.1016/j.chieco.2016.05.001

Löwenheim, O. (2008). Examining the State: a Foucauldian perspective on international 'governance indicators'. Third World Quarterly, 29(2), 255-274. https://doi.org/10.1080/01436590701806814

Makocki, M. (Julio del 2017). It's the economy: China's trajectory. En E. Pejsova (ed.), Chinese futures:Horizon 2025. Recuperado de https://www.iss.europa.eu/sites/default/files/EUISSFiles/Report_35_Chinese%20futures.pdf

Mattli, W., & Büthe, T. (Octubre del 2003). Setting International Standards: Technological Rationality or Primacy of Power? World Politics, 56(1), 1-42. https://doi.org/10.1353/wp.2004.0006

Mesa B., J., & González P., H. (Julio-diciembre del 2016). Paradiplomacia: una herramienta de poder blando de China. Papel Político, 21(2), 537-563. https://doi.org/10.11144/Javeriana.papo21-2.phpb

Minjiang, L. (2012). China Joins Global Governance: cooperation and contentions. (L. Mingjian, Ed.). Lamham: Lexington-Roman & Littlefield, 2012.

Neumann, I., & Sending, O. (2010). Governing the Global Polity: Practice, Mentality, Rationality. Ann Arbor: University of Michigan Press. https://doi.org/10.3998/mpub.371804

Pastrana, E. (2015). Retos de la gobernanza global frente a una multipolaridad creciente. En E. Pastrana, Problemas y desafíos contemporáneos de la gobernanza global y regional (pp. 199-251). Bogotá: Pontificia Universidad Javeriana.

Polk, A. (7 de mayo del 2018). China Is Quietly Setting Global Standards. Bloomberg. Recuperado de https://www.bloomberg.com/opinion/articles/2018-05-06/china-is-quietly-setting-global-standards

Reade, C. (Noviembre del 2016). Negotiating with China: Lessons from the Hangzhou G20 Bilateral Meeting. Center for Strategic and International Studies.

Risse, T. (Ed.). (2011). Governance without a State? Policies and Politics in Areas of Limited Statehood. Nueva York: Columbia University Press.

Risse, T., McFaul, M., & Magen, A. (2009). Promoting Democracy and the Rule of Law: American and European Strategies. Basingstoke: Palgrave Macmillan.

Roseanu, J. (2002). Governance in a new global order. En D. Held, & A. McGrew (eds.), Governing Globalization: Power, Authority, and Global Governance (pp. 70-86). Cambridge: Polity

Rüland, J., & Storz, C. (2008). Interregionalism and interregional cooperation: the case of Asia-Europe relations. En J. Rüland, G. Schubert, G. Schucher, & C. Storz (eds.), Asia-Europan Relations: Building blocks for gloval governance? (pp. 20-31). Oxon: Routledge. https://doi.org/10.4324/9780203930977

Sawin, J. (2015). Rewevables 2015: Global Status Report. REN21.

Shahar-Hameiri, H., & Jones, L. (2018). China Challenges Global Governance? Chinese International Development Finance and the AIIB. International Affairs, 94(3), 573-593. https://doi.org/10.1093/ia/iiy026

Shambaugh, D. (2013). China and Global Governance. En D. Shambaugh, China Goes Global: the Partial Power (pp. 121-155). Nueva York: Oxford University Press.

Shen, B. (2015). China's Trade Development Strategy and Trade Policy Reforms: Overview and prospect. Winnipeg: International Institute for Sustainable Development.

Stone, D. (2008). Global Public Policy, Transnational Policy Communities, and Their Networks. Policy Studies Journal, 36, 19-38. https://doi.org/10.1111/j.1541-0072.2007.00251.x

Suttmeier, R. (28 de junio de 2018). Inventing the Future in Chinese Labs: How does China do Science Today? The Conversation. Recuperado de https://theconversation.com/inventing-the-future-in-chinese-labs-how-does-china-do-science-today-93830

Xi calls for reforms on global governance. (28 de septiembre de 2016). Xinhua. Obtenido de http://news.xinhuanet.com/english/2016-09/28/c_135720719.htm

Yuen Yuen, A. (2016). How China Escaped the Poverty Trap. Ithaca: Cornell University Press.

World Economic Forum. (2017a). The Global Risks Report 2017. Genova: World Economic Forum.

World Economic Forum. (2017b). The Global Competitiveness Report 2016-2017. Génova.
Descargas
Los datos de descargas todavía no están disponibles.
Citado por