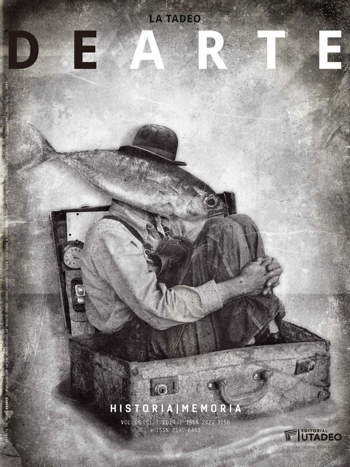 Cómo citar
De Luca, V. (2019). Refuser le temps pour agir le possible. Autour de « The Great Refusal » du collectif LIGNA. La Tadeo Dearte, 5(5), 122-133. https://doi.org/10.21789/24223158.1557
Resumen
Dans cet article nous analyserons un type particulier de performance reenactment pour montrer comment les relations entre l'histoire et la mémoire peuvent être remédiatisées par l'investigation artistique. Notre attention se concentrera sur la performance « The Great Refusal » du collectif LIGNA. Il s'agit du reenactment d'un événement historique qui en réalité ne s'est jamais produit : le Congrès de l'Internationale Socialiste qui aurait pu éviter la Première Guerre Mondiale. La production des actes de rejet et le développement de certaines qualités des gestes et mouvements des participants montrent des modes d'intervention tant dans le courant de l'action que de l'histoire. En particulier, ils dévoilent ce que les critiques d'art français A. Imhoff et K. Quiros appellent potentiels du temps. Dans ce sens, nous soulignerons la capacité de remédiation du reenactement -avec le double sens du mot, de médiatique et de remède-, en relation avec les blessures de la mémoire et de l'histoire.
Citas
Agnew, Vanessa. « Introduction: What is Reenactment? ». Criticism 46, n.° 3 (2004) : 327-339. doi: https://doi.org/10.1353/crt.2005.0001

Bénichou, Anne, éd. Recréer / scripter – Mémoires et transmissions des œuvres performatives et chorégraphiques contemporaines. Paris : Les Presses du Réel, 2015.

Bertram, Georg W. Kunst als menschliche Praxis. Eine Ästhetik. Berlin: Suhrkamp Verlag, 2014. [L'arte come prassi umana. Un'estetica. Milan: Raffaello Cortina, 2017].

Bondì, Antonino. « La mémoire comme médiation sémitique : valeurs, stratégies et figures de la reconnaissance ». Sens et médiation. Actes du Congrès l'Association Française de Sémiotique, Luxembourg, juillet 2015, 209-220. Lyon : AFS Éditions, 2016. http://afsemio.fr/wp-content/uploads/Sens-et-m%C3%A9diation.-A.-Bondi.pdf.

De Luca, Valeria. « Le figural entre imagination et perception ». Metodo. International Studies in Phenomenology and Philosophy 3, n.° 1-2 (2015) : 199-220. doi: https://doi.org/10.1353/crt.2005.0001

―――. « Le tango argentin entre apprentissage et improvisation. Quel média pour quel reenactment ? ». Intermédialités, 28-29 (2017) : 1-29. doi : https://doi.org/10.7202/1041085ar.

―――. «Pour un dispositif atmosphérique. La rencontre entre geste et image dans les installations d'Adrien M. & Claire B.». Plastir, n.° 54 (2019) : 45-64. http://www.plasticites-sciences-arts.org/PLASTIR/DeLuca%20P54.pdf.

De Toledo, Camille, Aliocha Imhoff et Kantuta Quirós. Les potentiels du temps. Art et Politique. Paris: Manuella Éditions, 2016.

Franko, Mark, éd. The Oxford Handbook of Dance and Reenactment. New York: Oxford University Press, 2017. doi: https://doi.org/10.1093/oxfordhb/9780199314201.001.0001

Hardt, Yvonne. « Le passé au présent : du travail de citations historiques et de reconstruction comme stratégies contemporaines de production chorégraphique et scientifique ». Traduit par Guillaume Robin. Allemagne d'aujourd'hui 2, n.° 220 (2017) : 101-111. doi: https://doi.org/10.3917/all.220.0101

―――. « Re-Visitations: Community, Improvisation, and Performing History Reflections inspired by LIGNA's performance "Dance of All" » [« Re-Visitationen: Gemeinschaft, Improvisation und performative Tanzgeschichte. Reflexionen inspiriert von LIGNAs "Tanz aller" » ]. In Körperpolitik, Bewegungschöre/Body Politics, Movement Choirs, edité par Patrick Primavesi & LIGNA. Leipzig: Spector Books, sous presse.

LIGNA. « Die grosse Verweigerung ». http://www.ligna.org/2016/06/die-grosse-verweigerung-3/.

―――. « Die grosse Verweigerung ». 11/12/2014, Hamburg, Allemagne, vidéo éditée par LIGNA. https://vimeo.com/129481644.

―――. « Die grosse Verweigerung ». 23/09/2015, Bolzano, Italie, vidéo éditée par LIGNA. https://www.youtube.com/watch?v=LvxwqkS5POM&feature=youtu.be.

Lepecki, André. « The Body as Archive: Will to Re-Enact and the Afterlives of Dance ». Dance Research Journal 143, n.° 2 (2010) : 28-48. doi: https://doi.org/10.1017/S0149767700001029

Parret, Herman. Une sémiotique des traces. Trois leçons sur la mémoire et l'oubli. Limoges : Lambert-Lucas, 2018.

―――. « Vestige, archive et trace : Présences du temps passé ». Protée 32, n.° 2 (2004) : 37-46. doi: https://doi.org/10.7202/011171ar

Ricœur, Paul. « Le bon usage des blessures de la mémoire ». In Société d'histoire de la montagne, Les résistances sur le Plateau Vivarais-Lignon (1938-1945) : Témoins, témoignages et lieux de mémoires. Les oubliés de l'histoire parlent. Poliganac : Éditions du Roure, 2005. http://www.fondsricoeur.fr/uploads/medias/articles_pr/temoin-4.pdf.

Ricœur, Paul. La mémoire, l'histoire, l'oubli. Paris : Seuil, 2003.

Schneider, Rebecca. Performing Remains: Art and War in Times of Theatrical Reenactment. London: Routledge, 2011. doi: https://doi.org/10.4324/9780203852873
Descargas
La descarga de datos todavía no está disponible.