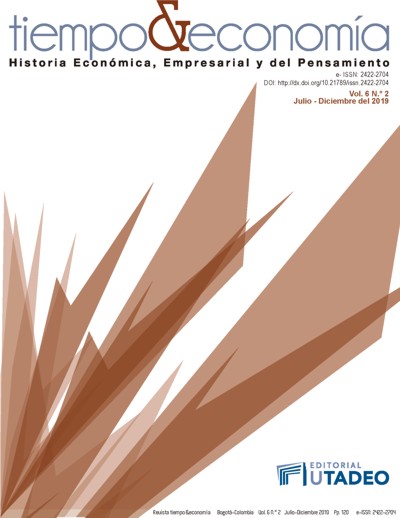 Cómo citar
l Vera-Ramírez, H. D. (2019). Apuntes sobre el rublo: la occidentalización de la moneda. Tiempo Y economía, 6(2), 11-35. https://doi.org/10.21789/24222704.1500
Resumen
Este documento analiza algunos momentos clave en el desarrollo e historia del rublo como medio de pago, haciendo énfasis en el hecho de que su curso se ha relacionado con un proceso de occidentalización del manejo monetario, que ha permitido soslayar en varios momentos, la pérdida de poder adquisitivo y el sostenimiento de la moneda-institución. Por otro lado, desde finales del siglo XIX, el oro comienza a tener preponderancia en la economía del país y se constituye en elemento clave de generación de riqueza y apoyo a una mayor emisión. Este análisis conduce a la introducción de un punto central y es la importancia del debate sobre el papel del dinero en las bonanzas y crisis económicas y su expresión práctica en las reformas monetarias llevadas a cabo en Rusia en tiempos posteriores al colapso de la Unión Soviética; punto de inflexión y de consolidación de la aceptación del uso de la moneda en el sentido que dan de a ésta las sociedades occidentales.
Licencia
Esta obra está bajo licencia internacional
Creative Commons Reconocimiento-NoComercial-CompartirIgual 4.0
.
Citas
Bain, K. & Howells, P. (2009). Monetary economics policy and its theoretical basis, 2nd ed. Plagrave-Mc Millan. https://doi.org/10.1007/978-1-137-01342-2

Bank of Russia. (2016). Monetary Policy Guidelines for 2017-2019, Moscow.

Berlin, I. (2012). Pensadores rusos. México DF: Fondo de Cultura Económica.

Billington, J. (2011). El icono y el hacha. Una historia interpretativa de la cultura rusa. Madrid: Ed. Siglo XXI.

Cecchetti, S. & Schoenhotz, K. (2011). Money banking and financial markets. Nueva York: McGraw-Hill.

Dabrowski, M. (1995), The reasons of the collapse of the ruble zone. Case studies and analyses, 58, http://www.case-research.eu/sites/default/files/publications/3460035_058e_0.pdf. https://doi.org/10.2139/ssrn.1312324

Dabrowski, M. (2016a). Currency crises in post-soviet economies. A never ending story? Russian Journal of Economics, 2, 302-326. https://doi.org/10.1016/j.ruje.2016.08.002

Dabrowski, M. (2016b). Collapse of the Ruble Zone and Its Lessons Post-Communist Transition and Monetary Disintegration CESifo Forum 4, December, pp. 1-9.

Dabrowski, M. & Rostowski, J. (1995). What went wrong? The reasons for the failure of stabilization in Russia in 1992, Case Studies and Analyses, 44, http://www.case-research.eu/sites/default/ files/publications/3459678_sa44_0.pdf.

Dolan, E. (1976). Austrian Economics as Extraordinary Science. En Edwin G. Dolan (Ed.). The Foundations of Modern Austrian Economics. Sheed and Ward, Inc, Liberty Fund, Inc. pp. 6-16.

Green T. (1983). El nuevo mundo del oro. Sus minas, sus mercados su política y sus inversiones. Barcelona: Planeta.

Kirchner, W. (1976). History of Russia. Summary of events from earliest Times with chronological table maps and charts. Barnes & Noble Edition, 2nd ed. New York.

Kluchevsky, O. (1911). A History of Russia. London: J.M. Dent & Sons. Ltda. New York.

Lenin, V. (1981). De la vida económica de Rusia. Obras Completas. Cap 6. Moscú: Ed. Progreso.

Maisiev, S. (2012). Istoria Centralnej bancov i bumashnij dienij. Centralnij bank rossiskoi federatsiyi.

Mavor, J. (1914). An Economic History of Rusia. Londres: J. M. Dentt & Sons Limited.

McKinnon, R. (1963). Optimum Currency Areas. American Economic Review, 53, 717-725.

Mundell, R. (1961). A Theory of Optimum Currency Areas. American Economic Review, 51, 657-665.

Orlowski, L. (1993). Indirect Transfers in Trade among Former Soviet Union Republics: Sources, Patterns, and Policy Responses in the PostSoviet Period, WCOB Faculty Publications, 198. https://doi.org/10.1080/09668139308412138

Owen, T. (1989). A standard Ruble of account for russian business history, 1769-1914: A note. Journal of Economic History, 49(3), 699-706. https://doi.org/10.1017/S0022050700008834

Pares, B. (1944). A History of Russia. Nueva York: Ed. Alfred A. Knopf.

Pla, I. (2003). Cambios Institucionales en la Economía Rusa: de las reformas de mercado a la consolidación monetaria, Revista de Economía Institucional, 5(8), 66-91.

Pikhoya, G. (2003). Gold Mining in Russia. The LBMA Precious Metals Conference 2003, Lisbon. En: http://www.lbma.org.uk/assets/3d_pikhoyalbmaconf2003.pdf

Seljak, A. (2012). Nicht Immer rollte der Rubel (German Edition). Das russiche Geld und Kreditsystem vom Kiever Reis bis 1897.

Trenin, D. (2016). Should we fear Russia? Cambridge, UK: Polity Press.

Vernadsky, G. (1930). A History of Russia. New Haven. Yale University Press. London.

Vera, H. (2018). Análisis del desarrollo de la moneda rusa: la historiografía bizantina y eslavista del rublo. Cuadernos Medievales, 24, 19-34.

Vilariño, A (2001). Turbulencias financieras y riesgos de mercado. Madrid: Ed. Prentice Hall.

Zhukov, S. (1993). Monetary Aspects of Russian Transition. The United Nations University. WIDER. Working Papers, 106.
Descargas
La descarga de datos todavía no está disponible.